Nassyam Basha – CKPT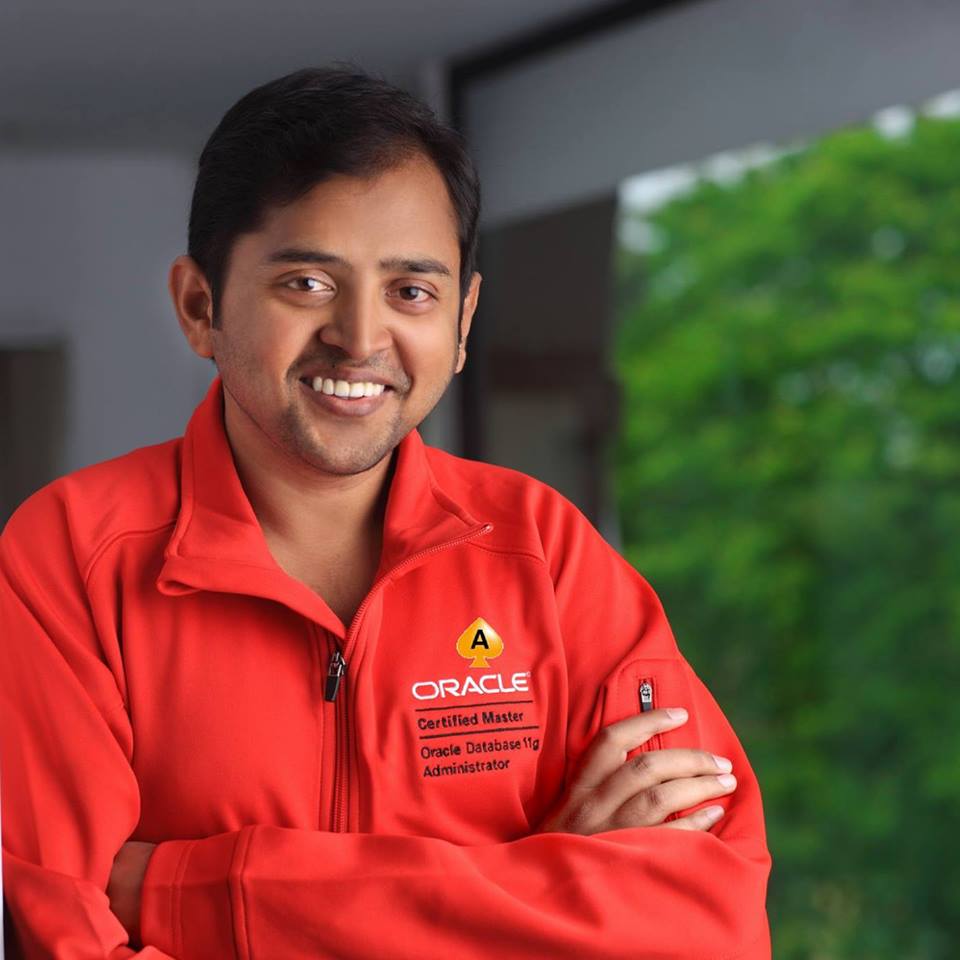 Nassyam Basha is a database administrator. He has about 10 years of IT experience, with the last eight years as a production Oracle DBA. He currently works as a senior principal consultant at Data Intensity. He is a post-graduate who has a master's degree in computer applications from the University of Madras. He started working with dBase and FoxPr and has participated in several projects with FoxPro and Oracle Database starting from Oracle 7. He is an Oracle 11g Certified Master and was awarded the Oracle ACE Director title from Oracle. He is skilled with Oracle technologies such as Data Guard, RMAN, RAC, Cloud Control, and performance tuning. He has completed hundreds of Data Guard setups with major Data Guard–related issues on all platforms and has worked with business-critical production databases. He actively participates in Oracle-related forums such as OTN with a status of Super Hero, participates in Oracle Support with the title of Guru, and acts as an OTN moderator. He also has written numerous articles for OTN and Toad World with the status of Master, Legend, Guru, and Celebrity. He maintains an Oracle technology–related blog (www.oracle-ckpt.com) and is reachable at nassyambasha@gmail.com.
Oracle ACE Director
Nassyam has been honored as Oracle ACE Director based on his extraordinary contributions to the Oracle community in the year 2015. Named as the 2nd Oracle ACE Director in India in Database management space and my Major contributions to the community are

Frequent Blogger
High quality articles written to Oracle
Co-authored Oracle Data Guard 11gR2 administration Beginner's Guide
Active contributor in community.oracle.com with the status of Super Hero
Honored as "Oracle Guru" from MOSC – My Oracle Support Community
Participated in Customer advisory board, Community usability testings.
Speaker across India(OTN Yathra, AIOUG Chapters, SANGAM) and including TROUG – Turkey, OUGF – Finland, IOUG.
Manager and Member of www.oraworld-team.com
Beta participation
Co-Authored Books
Oracle Data Guard 11gR2 Administration Beginner's Guide
Book Authoring is always a biggest dream for any techie and this was never easy until i complete chapters of my first book. I have co-authored my first book "Oracle 11gR2 Data Guard administrator's Guide" with Emre Baransel. I have enjoyed throughout the period and the actual excitement was when the book is completed and released. If someone who wants to learn Data Guard technologies with detailed demos in step by step and this is the perfect book. This book was well received and great response from the readers.

Table of Contents
Chapter 1: Getting Started
Chapter 2: Configuring the Oracle Data Guard Physical Standby Database
Chapter 3: Configuring Oracle Data Guard Logical Standby Database
Chapter 4: Oracle Data Guard Broker
Chapter 5: Data Guard Protection Modes
Chapter 6: Data Guard Role Transitions
Chapter 7: Active Data Guard, Snapshot Standby, and Advanced Techniques
Chapter 8: Integrating Data Guard with the Complete Oracle Environment
Chapter 9: Data Guard Configuration Patching
Chapter 10: Common Data Guard Issues
Chapter 11: Data Guard Best Practices
Interview with PACKT Publications:  Nassyam Basha, To know more about this book, please refer the links for review and purchase. PACKT  Amazon
Database Upgrade and Migration Methods
After my first book i took much time and again accepted to Co-Author on "Oracle Database Upgrade and Migration Methods" with KM Krishna Kumar & YV Ravi Kumar. When new versions or releases of the databases are available then in order to fix current bugs and to use new features customer always prefer to upgrade and this book specifically explained what are the various methods available to upgrade and migrate, used various other Oracle features/Products such as Data Guard, Oracle Golden Gate so on and test cases prepared with RAC too. Finally we have covered a chapter of all together 12c Release 2 new features related to the upgrade part.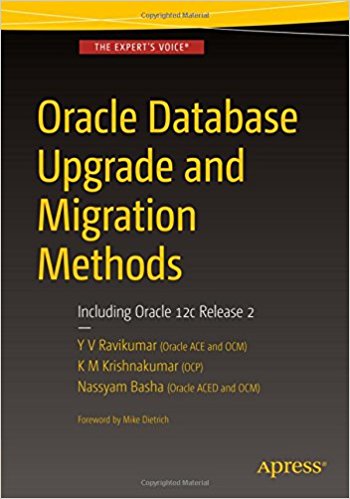 Chapter 1: Getting Started
Chapter 2: Database Upgrade Methods
Chapter 3: Comparison of Upgrade Methods
Chapter 4: Upgrade Using a Database Backup
Chapter 5: Oracle Database Migration
Chapter 6: Migrating Oracle Database from Non-ASM to ASM Environments
Chapter 7: Oracle GI and Oracle 12c Database Upgrades in RAC Environments
Chapter 8: Database Upgrades in Data Guard Environments
Chapter 9: Database Upgrades in EBS Environments
Chapter 10: Multitenant Database Upgrades
Chapter 11: Pluggable Database Migrations
Chapter 12: Oracle Database Patching Strategies
Chapter 13: Database Downgrades
Chapter 14: Oracle Database Upgrades in Oracle Database Release 12.2
This book is released on 2nd March 2017 and available to download from Apress Amazon.  Please share the feedback and write an quick review if something you want to mention about this book.
 Certifications
Oracle Database 11g Administrator Certified Master
Oracle Exadata Database Machine 2014 Certified Implementation Specialist
ITIL® Foundation in IT Service Management
IT Service Management Foundation Bridge based on ISO IEC 20000

Oracle Technology Network
Regular contributor in community.oracle.com with the status of Super Hero
"Oracle Guru" honored by Oracle Support – MOSC
Acting as OTN Moderator to review and ensure to take care of the Abuse, SPAM posts or wrong space posts.
Contributor in Oracle-l (freelists)
User Group Contributions


 There is a law written somewhere in the universe that says the day your standby's config diverges from your primary is the day you will need to failover. Better hope such divergence doesn't hurt the end user experience now that they are using the standby. 🙂