Troubleshooting Database Cloud Provisioning – Worthy TIP
While creating Oracle Database Cloud services especially like Two node RAC Primary and Two node RAC standby, you may face service creation failures. This is very much expected because of the Region preferences, Authentical issues, Backup destination and various causes. Usually, we will review the status information in the Cloud portal but that piece of information is not broad and hence we need to review one of the important logs of deployment of the service.
Configuration what am trying is to deploy the Oracle 18c with two nodes RAC primary and two node RAC standby. This is not straight-forward as single instance service and hence we need to troubleshoot when the deployment is in progress. First, let's gather the IP address of the primary database first node IP so that we will access the host.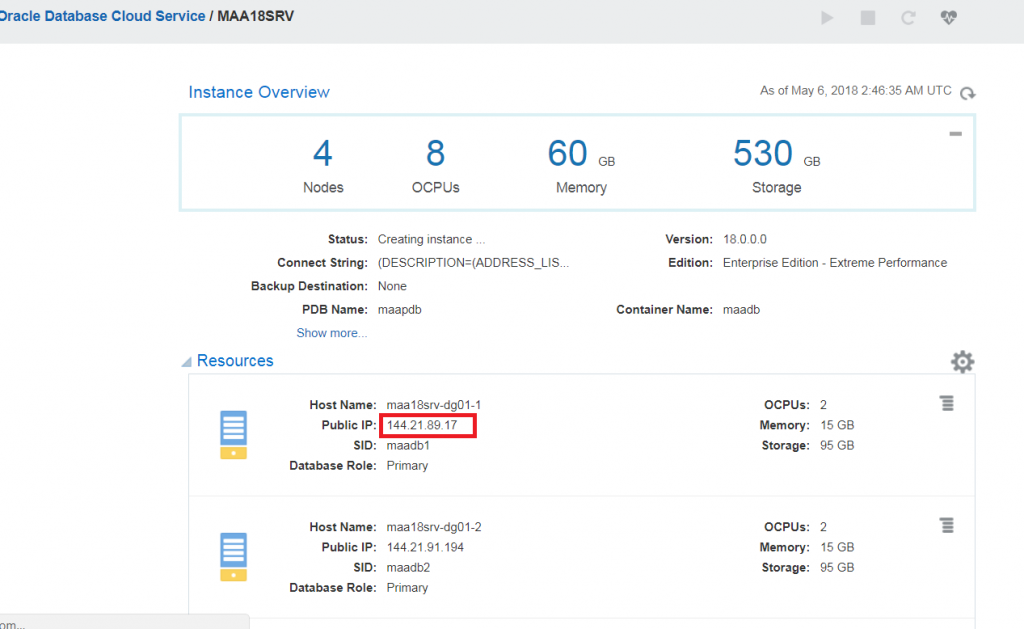 Now from the putty connect to the above IP address with the private key used to create the service. Please note that once the IP address displayed in cloud portal and we can consider as the hosts are now accessible.
Before going with enhanced troubleshooting we can check some information from the cloud portal as well. As said this information is very little and hence we need to get access to the host to track the logs.
In-Progress Provisioning Messages
Created Compute resources for Database Server...
Created Compute resources for Database Server...
SSH access to VM [DB_1/vm-1] succeeded...
SSH access to VM [DB_1/vm-2] succeeded...
SSH access to VM [DB_2/vm-1] succeeded...
SSH access to VM [DB_2/vm-2] succeeded...
Configuration of Security for Oracle Database Server successful...
Failed to configure RAC Oracle Database Server...
[Exception in createServiceOnStandbyNode:Auth fail...
Auth fail
Auth fail
Auth fail
Auth fail
]
Initiating Database Service Termination...


Skipping delete backups for Database Service instance [MAA18SRV] since the request parameter for delete backups is not set.




Starting Compute resources ...




PSM-DB-039Cleaning up Service due to error [Error in provisioning Database]

...
Try to connect ASAP to the host access as soon as the service creation started. Ten we can able to access the file and do tail the file  "/opt/oracle/dcs/log/dcs-server.log", this will have all the information of provisioning of the service and also complete deployment log with errors/warnings or failures etc.

FYI, in the above image, the log is only for the sample.
I hope this is a just small piece of info, but still worth in unfortunate situation 🙂
Reviews and Contribution with Syed Jaffar Hussain