Speaking @ OTNYathra 2014
Hi Friends,
I'm speaking @OTNYathra 2014 – Mumbai and topic is "Oracle 12c DataGuard – FarSync and what's new".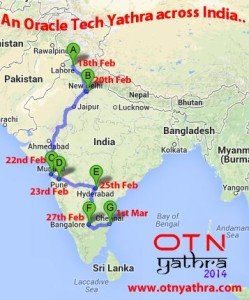 Oracle 12c Data Guard comes with several new features where Far Sync Standby reveals to be the main one. FarSync Standby and a physical standby are identical except that FarSync doesn't hold any data file, it works only with control file and represents an extended version of pre 12c cascaded databases. In this presentation I will start by presenting the FarSync architecture and its configurations particularly in special cases like switchovers and high available configurations with zero data loss. I will then explain how to implement FarSync, how to manage it under Data Guard broker configuration and how MRP (Recovery) works in the context of a FarSync configuration. And finally I will end this presentation by covering 12c TOP Data Guard features such as Real-time cascade standby database and other features as well.
It's great opportunity to meet Oracle experts in this event and definitely challenging to me as this is my first ever session.