DataGuard 11gR2 Administration Book is Available
Emre and me started working on this book exactly from 22nd June 2012 for PACKT publications, We both spent lot of time on this book for almost an year. To write this book i have took dedicated small server with huge configuration to test on 5 virtual machines with different Operating systems and different database roles and i took it as very passionate and challenging task. In this book every topic of all chapters apart from our knowledge and experience all of the topics are been tested and written. This Book we prepared more into practical approach and it doesn't mean it contains less theory. There are some dedicated chapters available such as Best Practices, how ADG works with applications and a dedicated chapter for Oracle Patching, many and many……  Initially the plan from PACKT is to limit the number of pages in between 340 to 350 pages but it went beyond the limit and of course we are unable to control ourseleves its because our intention is to ensure the reader is not missing anything.
To understand this book, basic database administration knowledge is necessary. If so any DBA can understand the concepts. This book is prepared with the intention specifically for beginners. But i realized later that this book is not only for beginners and it covered even more advanced topics as well. Emre is been captain for this book and he guided me and corrected in writing the chapters. It is great opporutnity to work with him, While writing this book i have corrected many things myself not only technical but also in communication and also writing skills. We exchanged lot of emails and used to discussed with him for any clarification while writing this book. His leadership was amazing and he took ownership of some topics when am unable to complete within the deadline.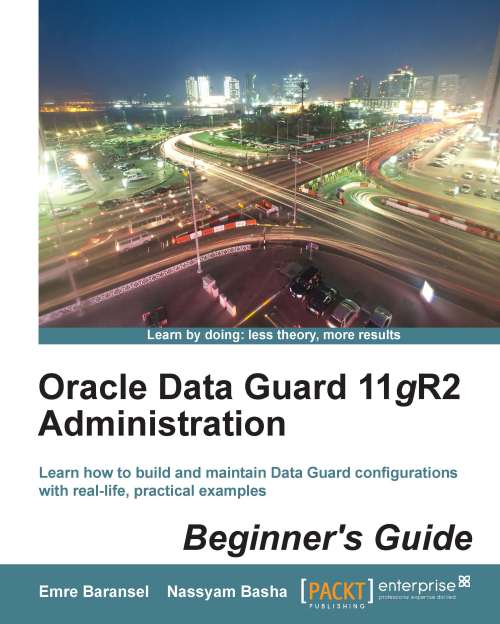 Technical Reviewers

:-
And there is tremendous work from the Technical Reviewers Syed Jaffar Hussain, Michael Seberg and Joel Perez. They provided many suggestions and very helpful feedback and it helped very much to rewrite the topics as required.  Syes is already very experienced being an author for several publications and his review is big advantage to us. Special many many thanks to Technical reviewers of this book. Michael Seberg even more suggested grammatical changes other than technical stuff.
PACKT Team

:-
It was nice journey to work with PACKT and special thanks to PACKT team, Especially Stephanie Moss, Martin, Leena, Samatha, Khyati, Veena, Zafeer and  Ankita. Sorry if i forgot if any names.
CKPT Review

:-
After all the efforts the book delivered with very informative, conceptual and more practice oriented and this book is perfect start for beginners and this book is covered all the techniques of Data Guard and even with EM(GUI) mode as well. All the topics are prepared in step by step numbering as Time for action, So that beginner can't miss anything while performing task. Also you can see POP quiz questions of every chapter which can help reader to think bit out of the Box. At the end am happy with the book outcome.
Reviews from Oracle Professionals:-
Oracle professionals are currently still reviewing Data Guard book, So far we have been received very good feedback and no dout you will like it definitely(hopefully). Here are some links and also you can check review from Amazon as well.
You can also read review from Emre Baransel
Book contents and Major topics
Chapter 1: Getting Started
What is Data Guard, Its evolution and Data Guard architecutre.
Chapter 2: Configuring the Oracle Data Guard Physical Standby Database
Pre-configuraiton for Data Guard, Understanding the attributes of Data Guard parameters, Implementing physical standby database using RMAN, Starting, Stopping and monitoring recovery.
Chapter 3: Configuring Oracle Data Guard Logical Standby Database
Logical standby characterstics, Preparation for the configuration, Creating and verifying the Logical standby database, Creating objects on Logical standby database
Chapter 4: Oracle Data Guard Broker
Introduction to Data Guard Broker and its components, Implementation and managing of Data Guard Broker with real time examples.
Chapter 5: Data Guard Protection Modes
Protection modes, Changing the protection mode using several methods.
Chapter 6: Data Guard Role Transitions
Role transition considerations, Performing switchover using SQL , Broker and by using EM. Performing Failover.
Chapter 7: Active Data Guard, Snapshot Standby, and Advanced Techniques
Why and what is Active Data Guard, ADG with applications and Features of ADG. Converting to Snapshot standby database, Using Cascade standby database, Using Advanced compression. Creating standby on cross-platform.
Chapter 8: Integrating Data Guard with the Complete Oracle Environment
Cloud control integration, RMAN integration and RAC integration.
Chapter 9: Data Guard Configuration Patching
What is patch and different types of it, Applying patches on Physical and logical standby databases, How to apply patchset.
Chapter 10: Common Data Guard Issues
Explained many real-time issues and how to resolve them.
Chapter 11: Data Guard Best Practices
Configuring connection failover, Rolling upgrade transient logical standby database and several more scenarios.
Sample chapter  – You can download here
You can order book online from PACKT and also from Amazon.
All the Best,
Nassyam Basha.