Book Review: Oracle Database XE 11gR2 Jump Start Guide –  Asif Momen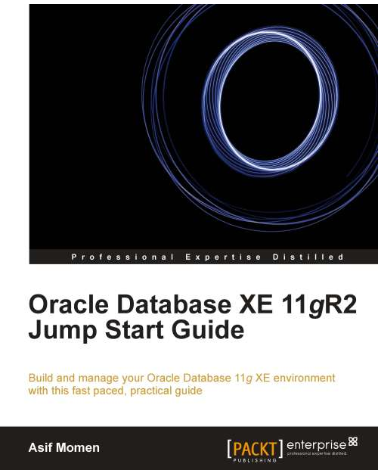 Asif Momen has been working with Oracle technologies for over 12 years and has expertise in Database Architecture, Performance Tuning, andHigh Availability. He has a Master's degree in Software Systems from Birla Institute of Technology & Science (BITS), Pilani. Asif is honored by the prestigious Oracle ACE award from Oracle Technology Network. He has the following certifications: OCP 11g DBA, OCP 9i Forms Developer and is an Oracle Certified Expert in RAC 10g. Asif is a presenter for conferences like Oracle OpenWorld-2010, All India Oracle User Group (AIOUG), and Brain Surface. In addition, he is the Member of Editorial Board of "Oracle Connect"—the quarterly publication of AIOUG and "Select" magazine of the United Kingdom Oracle User Group (UKOUG) His articles have also appeared in Oracle Support – Customer Knowledge Exchange . His particular interests are Database & SQL tuning, Oracle RAC and Backup & Recovery. He posts his ideas and opinions on "The Momen Blog" (http://momendba.blogspot.com). Asif can be reached at asif.momen@gmail.com.
About Book:-
Asif Momen's first book is released from Packt Publishing: Oracle Database XE 11gR2 Jump Start Guide
Oracle Database XE 11gR2 is an excellent beginner-level database and is a great platform to learn database concepts.
"Oracle Database XE 11gR2 Jump Start Guide" helps you to install, administer, maintain, tune, back up and upgrade your Oracle Database Express Edition. The book also helps you to build custom database applications using Oracle Application Express.
Using this book, you will be able to install Oracle Database XE on Windows/Linux operating system.
This book helps you understand different database editions and it guides you through the installation procedure with the aid of screenshots. You will learn to interact with the database objects. You will gain a solid understanding of stored sub-programs which is followed by an introduction to Oracle Application Express (APEX). Solid database performance tuning strategies are also discussed in this book followed by backup and recovery scenarios.
All in all, "Oracle Database XE 11gR2 Jump Start Guide" delivers everything that you should know to get started with Oracle Database administration.
Book Contents:-
Chapter 1, Database Editions and Oracle Database XE: Compares Oracle Database XE with other editions
Chapter 2, Installing and Uninstalling Oracle Database XE
Chapter 3, Connecting and Configuring Oracle Database 11g XE: Oracle Listener and Oracle memory management
Chapter 4, Accessing Table Data, DML Statements, and Transactions: How to use Oracle SQL Developer to access, modify data, table structures and manage transactions
Chapter 5, Creating and Managing Schema Objects: Tables, indexes, constraints, views, sequences, and synonyms
Chapter 6, Developing Stored Subprograms and Triggers: Introduction to PL/SQL (stored procedures, functions, and triggers)
Chapter 7, Building a Sample Application with Oracle Application Express: Introduction to Oracle Application Express (APEX)
Chapter 8, Managing Database and Database Storage: Memory structure, processes, physical database structure and the Flash Recovery Area
Chapter 9, Moving Data between Oracle Databases: Move data between different Oracle Database XE versions using Oracle's export/import utilities
Chapter 10, Upgrading Oracle Database 11g XE to Other Database Editions: When you need more power, you may want to upgrade your database
Chapter 11, Backup and Recovery: Archivelog mode, basics of backup and recovery
Chapter 12, Tuning Oracle Database 11g XE: Execution Plans of Queries, Indexes, Statspack
"Oracle Database XE 11gR2 Jump Start Guide" provides practical information to help you start using Oracle Database XE.  It's sufficient for beginners and has very useful information such as upgrading XE to other editions, but keep in mind that, it is not a reference book, and some subjects (such as recovery and tuning) are not deeply explained. If you have a basic knowledge of SQL and want to step into the Oracle XE, this is the book you need
Review:-
From the chapters of 1 to 6 designed for beginners to learn from architecture concepts, Every chapter is very detailed.
From the chapters 7 to 12 desgined with advanced topics. Chapter 7 introduced with Application Express, Moving data between oracle Databases, Managing Database and storage,
For sure Chapter 12 is an valuable by introducing "Tuning Oracle 11g XE". Overall This book looks great even for beginners and who ever looking for Advanced concepts of Oracle 11g XE.

Direct Link to Buy Book from PACKT Oracle Database XE 11gR2 Jump Start Guide